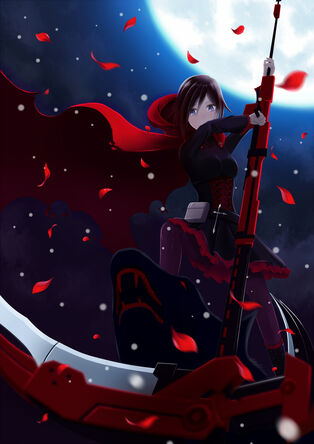 The
Crescent Rose
is a weapon which is currently being hold by the Ex-Warrior known as
Rose
.
Information
Edit
As its name implies, Crescent Rose's frame is colored rose red with black trims, with its large scythe blade forged into a crescent shape. Ruby's crest is engraved onto the circular swivel frame of the weapon.
The most notable property of Crescent Rose is its converting frame, which allows it to transform between three different modes:
A "storage" mode, its most compact form convenient for transportation, stored underneath Rose's cloak at her waist.
A "bow" mode, where it takes the form of a medium-length, bolt-action rifle. In this form, the absence of the scythe makes for more effective use of the bow component.
A "scythe" mode, its most expanded form, where it fully extends into the form of a scythe, allowing it to be used as a mid-to-close-range bladed melee weapon. This form also doubles as a long-barrel sniper rifle for long-range shots without giving up the melee capabilities of the scythe. If needed, the bottom of the shaft can unfold to add more cutting power in a close-range fight.
Abilities
Edit
Empowered Scythe: The Crescent Rose is able to change the Scythe into burning flames.
At one point, Rose affectionately refers to the weapon as "Sweetheart", showing her fondness for the weapon.